Streamline the Shipping Process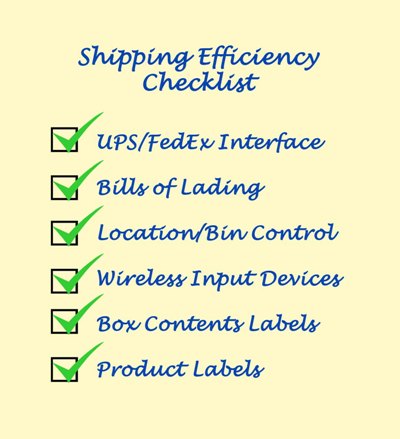 Most of you routinely ship products to your customers. PowerShift applications make the process easier. Are you taking advantage of these tools?
UPS / FedEx Interface
UPS's WorldShip and FedEx Ship Manager offer ODBC interfaces that update the carrier's system with actual order information from PowerShift. Using the ODBC link ensures that the carrier uses data (e.g., order/shipment number, PO number, ship-to name and address, freight payment method, etc.) from the order (as opposed to something previously stored on their system) to facilitate delivery accuracy.
PowerShift's manifest interface works in the other direction, taking the information added by the shipping carrier and sending it back to PowerShift. Far greater accuracy is guaranteed since uploading tracking numbers, freight dollars and other data from the carrier eliminates the possibility of entry error. The tracking number can print on the invoice and when emailed, the email message can include a direct link to tracking information on the carrier's site. The Track button in PowerShift programs (such as Shipment Tracking Inquiry - OSFQ) also launches a direct link to carrier tracking information.
Bills of Lading
Most of you make at least some LTL or truckload shipments that require of a bill of lading. We don't understand why some of you are still manually creating the bill of lading. PowerShift includes a bill of lading subsystem that allows you to combine multiple shipments to a single bill of lading, thereby reducing associated freight costs. Simply create a new bill of lading by selecting a shipment, adding more shipments to it as needed. You have numerous options as to the details that are printing on the bill of lading. Once the bill is created, invoicing doesn't occur until the bill of lading is confirmed, allowing you to create the document in advance of the pickup and complete the confirmation after the goods are accepted by the carrier.
As a part of the bill of lading process, extended weights are accumulated by freight classification. If you're having trouble getting the weights and freight classes entered into the system, the system can send a nightly email to advise you of missing information for upcoming shipments. Freight amounts entered on a bill of lading can be billed to the associated orders if desired.
If you make international shipments, the commercial invoice is automatically generated as a part of the paperwork. And if you need a pro-forma invoice for Customs? One can be generated with the touch of a button!
Location Controls & Wireless Input
Assigning inventory items to warehouses and bin locations enables operators to efficiently locate items within your facilities. The recent addition of a warehouse map feature ensures that inventory is stocked to valid locations. Sorting pick lists by warehouse/bin location can speed the picking process.
If you always want to pick from a prime location there's a PowerShift option to support this. Using the look-ahead report ensures that prime locations are sufficiently stocked to meet sales order demand for a configurable number of days.
Barcodes and wireless input devices (RF) assist operators in the picking and packing processes, including verification that the correct item has been picked from the desired location. RF devices also enable multiple operators to picking the same orders simultaneously. Having operators assigned to specific inventory areas eliminates congestion in the warehouse aisles.
Need to pack multiple different items in shipping cartons? We have a pick/pack option that allows you to first pick items for shipment and then enter data about how they are packed. Ever had a box lost and wish you knew what was in the box? The pick/pack option can generate box content labels and also provides visibility on the shipment of what is packed in each container.
Customer-Specific Product Labels
If you need customer-specific labels for the products you ship, PowerShift includes interfaces to generate them as a part of the manufacturing and/or shipping processes. Based on the customer, the label format can be different to meet OEM requirements.
Contact the Qantel Helpdesk or call us at 630.300.6997 for more information or to schedule a webinar about how implementing these PowerShift features can help optimize your shipping process.