Reports Go Mobile!
Qantel Technologies Inc. introduces a mobile app for iPhone and iPads and Android phones and tablets. The mobile app enables you to: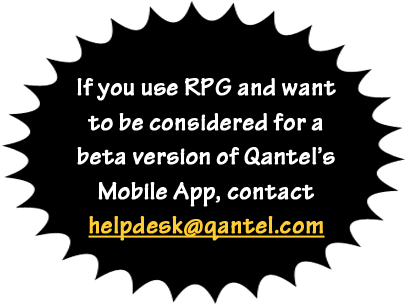 Use Report Generator (RPG) to create reports that can be executed on demand from mobile devices

Run PowerShift reports; display on mobile device or send as email

Run selected PowerShift inquiries (e.g., Executive Information summaries, GL Activity, Item Usage, Material History)

Receive and approve requests from the PowerShift Approvals subsystem

Create and maintain menus and submenus of mobile reports by user
The screens below show sample app start and menu screens, and an example of an RPG report run on an iPhone. This on-demand report lists open orders, net values and includes a drill to order lines sourced from real time data. All of the information you see -- including column titles -- is generated from the user-developed RPG specification.
This spec produces the order list (i.e., the screen with the Sales Order Header page title):
    !	Primary input file
    	INPUT      SO.HDR
    !
    !	Linked file(s)
    	USING      O1A.TO.C1A
    !
    !	XML processing for mobile app
    	INCLUDE    #APPXMLM
    !
    !	Main report title
    	TITLE      DEL=PageTitle _
	SYS.FILE.HEAD$
    !
    !	Column titles
    	TITLE      DEL=ItemTitle _
	"Order #"; "Customer Name"; "Phone #";  "Email"; "Total"
    !
    !	Column attributes
	TITLE      DEL=ItemAttr _
	"string"; "string"; "phone"; "email";  "currency"
    !
    !	Row data
    	PRINT      DEL=ItemDetail _
	ORDER.NUMBER; CUSTOMER.NAME; PHONE.NUMBER; EMAIL.ADDRESS; GROSS.AMOUNT
    !
    !	Totaling
    	TOTAL      DEL=ItemTotal _
	GROSS.AMOUNT,POSITION:0; "Sales Orders - Total:",P;  "currency",P
  

Future Insight articles will focus on running PowerShift reports, inquiries, and processing approvals via the mobile app.