PowerShift & Carriers "Talk" to Boost Shipping Efficiency
Did you know that PowerShift can interact with your carrier's software to speed up your shipping process and improve its accuracy? Open Database Connectivity (ODBC) enables PowerShift to seamlessly interoperate with UPS World Ship, FedEx Ship Manager and other ODBC-enabled applications. Coupled with PowerShift's ability to include barcodes on documents, you can simplify package shipping.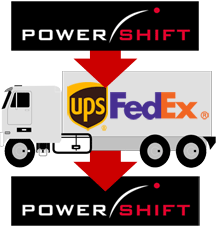 The process is simple: Connect to the carrier-provided database and scan the shipment number. The carrier's software retrieves all needed order shipment data using the ODBC connection to PowerShift. Include the customer's PO number in the data retrieved from PowerShift and it becomes a reference on the carrier's label along with the shipment number.
PowerShift's manifest data interface (MDI) takes over when the carrier's software returns a file with tracking numbers, package weights, shipping costs, etc. Greater accuracy is the result: data uploaded directly from the carrier eliminates the possibility of keying errors on your end.
PowerShift polls for carriers' files at periodic intervals and processes them automatically. If you indicate that a shipment requires a manifest transaction, invoicing will not proceed until shipping details are received from the carrier. Sales order details dictate if the freight is billable to the customer and whether or not additional charges or processing costs are added to the amount billed.
Clicking on the Track button in PowerShift programs whisks you to the carrier's web page so you can see up-to-date tracking information directly from the carrier. You can include the URL information on the emailed the packing slip or invoice. When the customer gets the email, they can simply click on the link to see the status of their shipment. No more "Has it shipped yet?" and "What's the tracking number?" calls!
Through this process, you are leveraging data connectivity for greater efficiency and enabling better customer service. Your customer service reps can tell customers exactly where their orders are – even after they leave your shipping dock!
Consider scheduling a webinar to see how the shipping manifest interface can streamline your shipping operation. Contact the Qantel Helpdesk or call us at 630.300.6999 for more information.