Automate Picking & Shipping
If you're ready to unleash PowerShift's potential to make your shipping department more productive, read on! PowerShift tools can streamline, automate, and boost accuracy in order picking and shipping.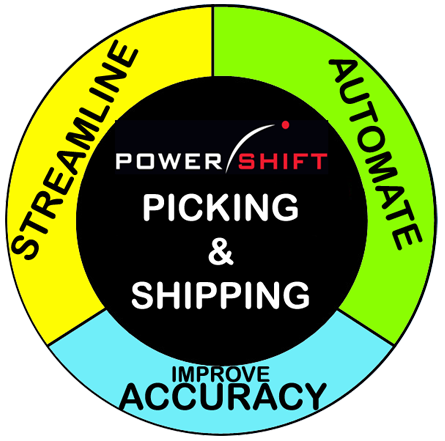 Order Volume Inquiry (OVQ)
This application allows you to look at upcoming orders and determine the overall shipping activity required. It splits out domestic and international shipments since the time required to prepare the paperwork varies dramatically. You have both the dollar value and estimated shipping weights to work with. Review the summarized information and then drill to the details with a simple click.
RF Devices & Picking
Given that they eliminate entry errors, we can't say enough about RF devices! When you use an RF device for picking orders:
You determine the sort sequence for picks

By bin location
By order/line
By some other criteria you decide (e.g., large, heavy items first)

You determine how many pickers are active on an order at once.

Pickers pick the entire order
Pickers stay with a range of locations

Operators can be directed to pick from specific locations and lots
You can scan an ID as you pick the order. When picking is complete, contents labels (sequential box numbers starting with one) are printed for each ID.  PowerShift is also updated with this information and you can inquire into the contents of each ID shipped.
For verification purposes the operator can be forced to scan the product picked to insure the correct item has been picked.
Bills of Lading
Typically "package" shipments do not require a bill of lading and all other types of shipments do.  Ship Via Codes Maintenance (TSV) includes an option to indicate a bill of lading is required. Customer invoices are not generated until the BOL is confirmed, allowing you to ready shipments for the carrier and simply confirm the BOL when the carrier actually picks them up. 

You can consolidate multiple shipments to a single bill of lading to get the most economical freight rate. The RF picking process can create the bill to streamline processing. If your orders are entered with a "Best Way" for the carrier, bill of lading confirmation can update the associated shipments to the carrier associated with the BOL (OC/OCQ shows the bill of lading association).

The sales order process calculates the order's estimated shipping weight. The bill of lading can optionally use the estimate or override it with to the actual shipping weight. Freight charges assigned to the bill of lading can be associated with shipments if desired. You can add Carrier Pro numbers, Customs SED references and a host of other details.