The Clock Is Ticking...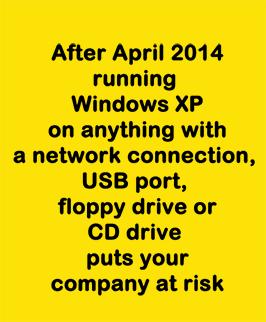 Microsoft announced some time ago that support for Windows XP ends on April 8, 2014. Running Windows XP on anything other than a desktop with no network connection, USB port, floppy drive, or CD drive after this date puts your company at risk. If you're using a Windows XP system, you need to consider how your company will be impacted when Microsoft withdraws support.
The biggest issue is security patches and updates to mitigate viruses will no longer be provided. Unlike new versions of Windows for which security patches are generally delivered within a day of exposure, this will not be the case after April 8, 2014. Any Windows XP system – including those in employees' homes – that can access your network provides a potential entry point for hackers, viruses and malware.
Organizations that continue to use Windows XP beyond April 2014 could be liable for damages in the event of a data breach. Data privacy statutes require the exercise of due diligence in protecting private information. It could be argued that continuing to use Windows XP demonstrates a lack of due diligence given the widespread publicity of its imminent end-of-life and incumbent security risks.
<![if !supportEmptyParas]> <![endif]><![if !supportEmptyParas]> <![endif]><![if !supportEmptyParas]> <![endif]>