Example: Shipment Tracking
You can use the OPAK-specific [TRACK] and [URL] message codes to include shipment tracking information in emails sent with sales order packing slips.
[TRACK]
When a confirmed order has a tracking number, [TRACK] inserts the shipment's tracking number on the emailed packing slip
[URL]
When the [URL] code is used, the carrier-provided URL associated with the ship via code is inserted in the message. The tracking number is also inserted as part of the URL so when the customer clicks on the link in the email, it brings them to the carrier's site and provides the number to track.
To illustrate, we created a message code PACK in TRST:

In Ship-To Codes Maintenance (TSV), we created carrier code UPS and clicked the URL button to enter the UPS-provided tracking URL: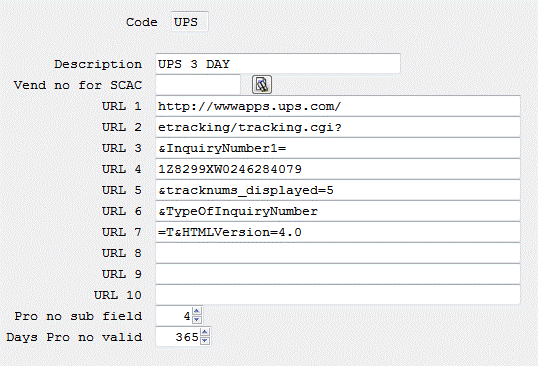 In Document Output Parameters Maintenance (TDOC) we specified <PACK> (the TRST message code we set up above) in the email text field for the Sales Order Packing Slip document. Enclose the TRST message code in < and >; whatever is entered outside the greater than and less than signs is the actual text that appears in the email body:

When the OPAK print queue is processed, resultant emailed messages look something like this: