Use Travelers to Track Production Flow
If you have trouble keeping track of the production flow through your facility, a document that moves with the work on the shop floor can be a big help. If you create a manufacturing order that outputs multiple containers of an item, a traveler can identify the item's route in the production process, showing the next routed work center/machine. If you're looking to attain ISO certification, travelers can be a valuable documentation tool.
Some key features of the traveler:
Documents the manufacturing order and operation sequence completed along with the date.
Enables you to specfy the quantity you want to move from the current work center.
If there are additional operations to be completed, the next operation sequence and its routed work center are displayed.
If this is the last operation sequence on the manufacturing order, the traveler indicates a move to "STK" and lists the item's primary warehouse and bin location.
Bar codes simplify further reporting.
PowerShift's standard traveler is defined by the Report Generator specification $TRAVEL: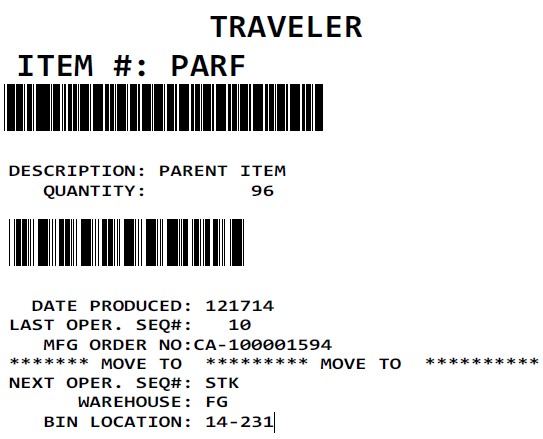 You can use it as it is, or change the spec to include additional information. The traveler can be printed to any defined printer: matrix, laser, a specialized label printer or whatever. Since it's an RPG report, you can modify as needed to meet changing requirements.
Once you're happy with the design, run Label Program Maintenance (TDLM) to create a label code, specifying *REPORTS as the label program and $TRAVEL as the paramenters to send. Next, run Work Center Operations (WCO) and select the one you created for the traveler as the label code program option.
You're all set! Run Work Center Operations (WCO), select the line you need a traveler for, and click Traveler. WCO prompts for the quantity you need and Voila! Your travelers are printed.
Contact the Qantel Helpdesk or call us at 630.300.6997 for more information. Whether you have a specific question about designing a traveler with Report Generator or you're looking to improve production tracking and reporting in your operation, we're here to help!